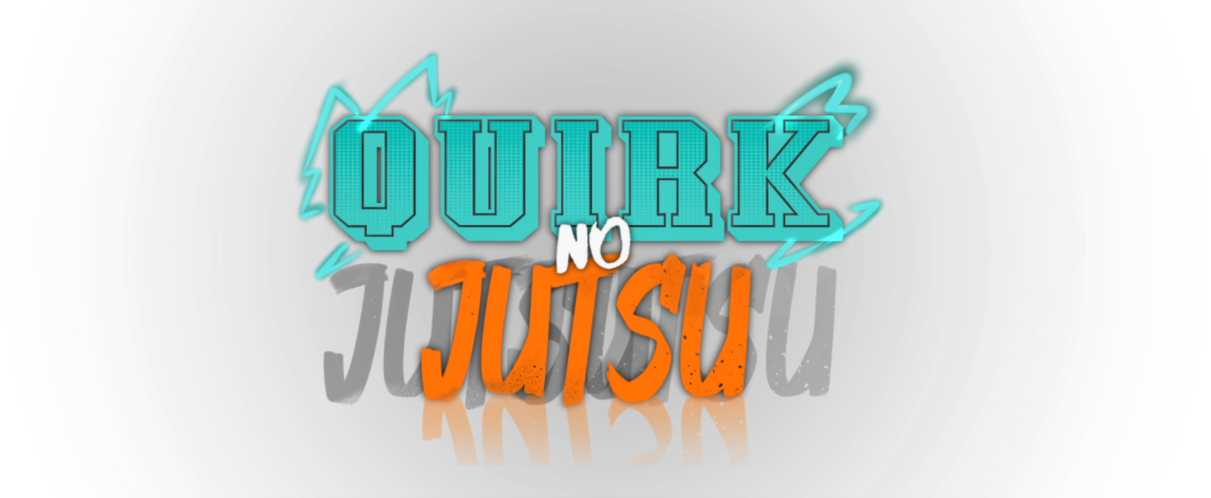 a naruto x bnha crossover fanzine
status: preorders open until Feb. 15th!
About
What is the "Quirk no Jutsu" zine?

Quirk no Jutsu is a Naruto x BNHA crossover zine that is centered around the Konoha 13, Class 1-A, and their corresponding sensei of both series.

We will have TWO VOLUMES: Heroes volume and Villains volume.

Theme

Bonds! This theme covers the meaningful connection forged between friends, rivals, enemies, found family, student-teacher, among others.
Heroes Volume:

This will feature the Konoha 13, students of Class 1-A, and their sensei. Other characters may make an appearance but they should not be the focus of the piece. This zine will be split into 3 sections or what we call "arcs".

Exams arc - will include all prominent exam arcs from both series: Chunin Exams, Provisional Hero License Exam, and even the Sports Festival!

Slice of Life arc - will showcase the day to day shenanigans of our favorite heroes, ninjas, and senseis, from their school life to their days off.

In the Field arc - venture into dangerous territory as heroes and ninjas work together to fight villains, accomplish missions, and complete rescue operations!
Villains Volume:

This will feature villains from both series such as the Akatsuki, League of Villains, Yakuza, Sound Ninja, among others. Unlike the Heroes volume, this book will be split into 2 sections.

Before - a section dedicated to showing the lives of the most infamous villains before they joined the dark side.

After - witness the hushed meetings and shady underground activities as these troubled characters bond over their favorite past time—destroying the heroes/ninjas and what they stand for.
FAQ & SCHEDULE
Will ships be allowed?

Ships can be implied but should remain ambiguous or platonic because romantic relationships are not the focus of this zine.

SFW or NSFW?

This zine will be 100% SFW, which means no obsessive gore or violence, but small amounts of blood are okay.

Is this zine for-profit of for-charity?

It is a for-profit zine. Contributors will be given the option to donate their share to Save the Children organization.

How will contributors be compensated?

Each contributor will be guaranteed a PDF, and a complimentary physical copy of the zine (or bundle) if funds allow.

Can contributors choose which volume to work on?

Yes. You may also be allowed to work on both volumes.

Physical or Digital?

We are aiming for both a physical and digital zine + merch.
Can contributors apply to more than one position?

Yes.

Can artists choose which writer they want to work with?

Yes. If you have been chosen to work with a writer, your choice will be taken into consideration when the mod team assigns you.

How will the writer & artist collaborations work?

We will have a discord server to host all of the contributors. After being settled, the writers are given a week to write an outline of their idea. The artists will send their preference to the mods and assign the collaboration pairs.

Can contributors draw/write solely for Naruto/BNHA?

As this is a crossover zine, we fully encourage all contributors to create a piece that features both Naruto and BNHA characters!

Are you still accepting headcanons?

YES! We will be accepting headcanons until the end of the content creation period, so don't be afraid to send yours in!
Interest check : May 1 - 31

Mod Applications open : May 21

Mod Applications close : June 21

Emails sent : June 28

Contributor Applications open : July 8

Contributor Applications close : Aug 8

Emails sent : Aug 14 - 17

First Check-In : Sept 17 - 20

Second Check-In : Oct 17 - 20

Third Check-In : Nov 20 - 22

Beta-Reading / Editing Stage : Dec 9 - 12

Preorders Open : Jan 15

Preorders Close : Feb 15

Production & Shipping : TBA
APP GUIDELINES
Contributor Applications will open from July 8 to August 8. Before filling out the form, please make sure to read our requirements carefully.

General portfolio requirements:

Please create a Google Drive folder containing your portfolioPlease ensure that all the links work and are set to be accessed by anyone with a link. Any link that is not accessible will have their application voided.NSFW samples are okay, but we would prefer SFW pieces.For artists: Your portfolio piece submission must include at least 1 BNHA or 1 Naruto pieceFor writers: Your portfolio should include at least 1 BNHA and 1 Naruto piece
Writer requirements:

3 of your best-written piecesEach sample must be 1K minimum - 3K maximum wordsA portion of a longer chapter may be submittedIt can either be a published or unpublished pieceWe will be looking at grammar and punctuation, characterization, creativity, good flow, and plot.
Solo & Collab Artist requirements:

At least 3 pieces that best represent your art style, you may send a maximum of 5 samples.At least 2 of these pieces should be in full color with a background (not just flat colors & sketches)Traditional art is acceptable, as long as it is scanned with good qualityWe will be looking at anatomy proportions, coloring (palette, lighting, shadows, etc.), background, and overall cohesiveness and vibe of the piece
Comic Artists:

At least 3 pieces that best represent your art style, you may send a maximum of 5 samples.1 of which must be a comic, in full colorTraditional art is acceptable, as long as it is scanned with good qualityWe will be looking at your ability to tell a story within a limited space, style, story-telling, and arrangement/flow
Merch Artists:

3 pieces that best represent your art style, you may send a maximum of 5 samples.Merch artwork is preferred, but not requiredWe will be looking at the colors, concept, and vibe of the overall merch
MODS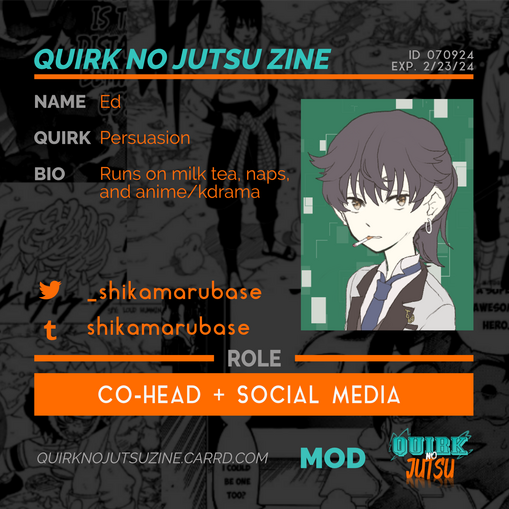 ED - Co-Head + Social Media Mod

Mod Experience:
Social media mod of Valkyrie ZinesWriter for Shadows of the Wind and SJ Big Three ZineHosted Shikamaru Week 2019 and Nara Week 2020, Mod of a Nara and BNHA discord server Features Editor of her college publication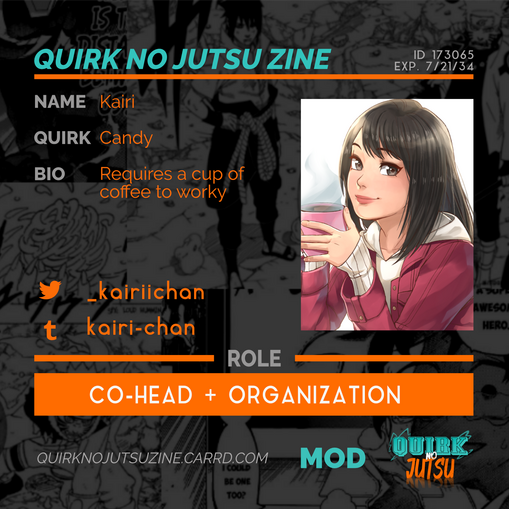 Kairi - Co-Head + Organization Mod

Mod Experience:
Social Media Mod of BNHA bloom zine Writer for 3 zines (NaruSaku - All Roads Lead To You, SasuSaku - Connected, SasuSaku - Quantum) BoruSara discord ModHosted BoruSaraWeek 2020Regional Project Manager, handling 11 countries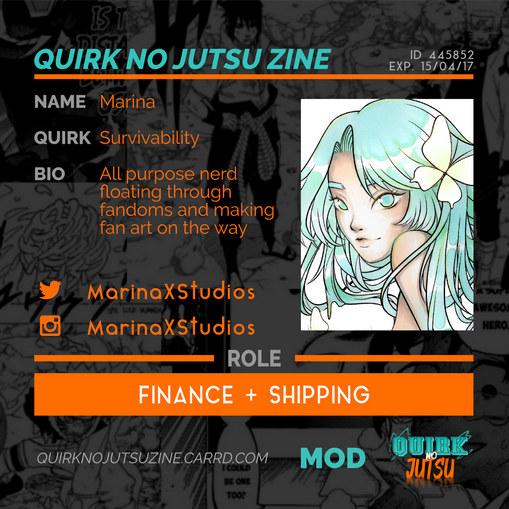 Marina - Finance + Shipping Mod

Mod Experience:
Finance & shipping mod for over 5 zines including Class Dismissed, BNHA Bloom, and Shadows Of The Wind. Participated in over 20 zinesAll of Marina's projects can be found here.Artist by trade with experience in selling physical merch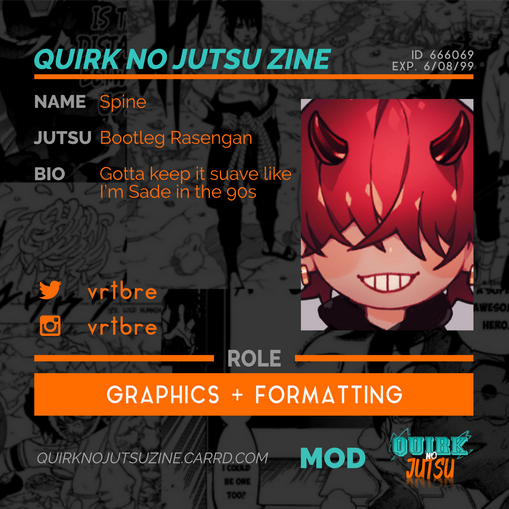 Spine - Graphics + Formatting Mod

Mod Experience:
Social media mod of Helping Hand ZineParticipated as a contributor in over 30 zinesFirst time Graphics & formatting mod (I'll do my best! I care too much about my rep to do a bad job - Spine)Self-proclaimed freelance artist
Aster - Art Liaison

Mod Experience:
Participated in over 5 zines including the Hop! Froppy fanzine, the Summer of She-Ra fanzine, and the Aspiro fanzineArtist by trade with experience in selling physical merch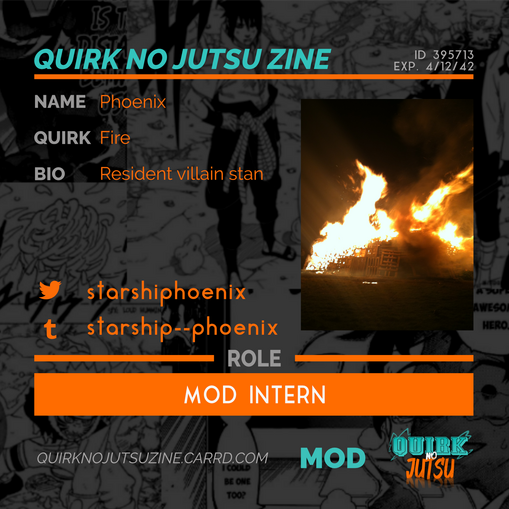 Phoenix - Mod Intern

Mod Experience:
Writer for 12 zines including Decay: A Shigaraki Zine, Liberation: A Paranormal Liberation Front Fanzine, Phoenix: From the Ashes (A BNHA Post-Apocalyptic Zine)Mod of a BNHA discord server, BNHA villain month 2019 and Todofam month 2020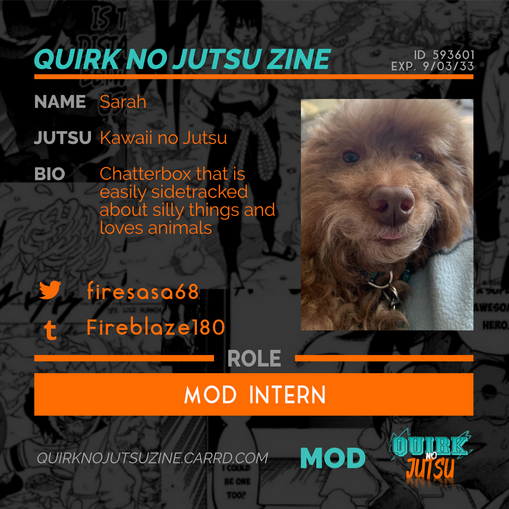 Sarah- Mod Intern

Mod Experience:
Mod intern for the All for One BNHA zineVery passionate and fills our team with energyIs cute